Sunday, July 20, 2014
11:19 PM
|
Posted by Alexis Ladig
Hi there guys! I wanted to add another weekly kind of post to my new blogging schedule. Last week I started my series New Book News to start about some books that I'm excited for, and now I want to start another weekly spot where I talk about my current reading process. I'm not sure exactly how much reading I can commit to getting done per week, but this way I can keep you guys updated.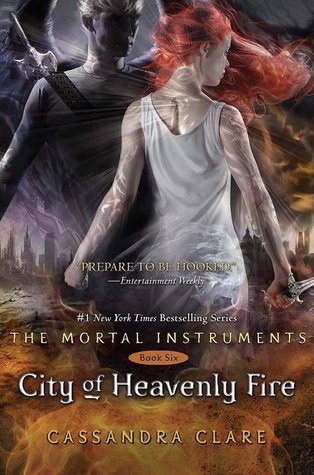 Book 1: City of Heavenly Fire (Mortal Instruments #6) by Cassandra Clare
Status: Pg 216/725
What I think so far:
So far this one has been great. I don't want to talk hardly at all about the plot though, since this is the last book in the series and I for sure don't want to spoil it for anyone who hasn't read the Mortal Instruments. I'm only about 30% done, but it has supplied enough action, romance, and suspense to keep me reading!
Book 2: To All the Boys I've Loved Before by Jenny Han
Status: Around 50% done with Audio book
What I think so far:
When going into this book, I expected a lot because I loved Jenny Han's other books (The Summer I Turned Pretty Trilogy). Though it has moved a little slow, I feel like Han really wanted us to fall in love with the characters before she got into the meat of the story. This is a contemporary novel, and I can already feel the romance starting! Who doesn't love a nice love story? Be sure to be on the lookout for my review for this one!
And there's my quick update on what I'm reading. What is on your currently reading shelf? For more updates you can find me on goodreads with the button on the right hand side or click
HERE
.

About Me
Hi my name is Alexis and I'm so excited to be heading to Oregon State University in the fall. I will be majoring in English and hope to become an editor or technical writer in my future.
View my complete profile