Monday, July 14, 2014
Here comes the first weekly New Book News for YA Books Beyond the Cover! In this series I just want to spend a few minutes highlighting some books that are coming out soon and why I'm excited for them.
First up for NBN this week:
1. More Than This by Patrick Ness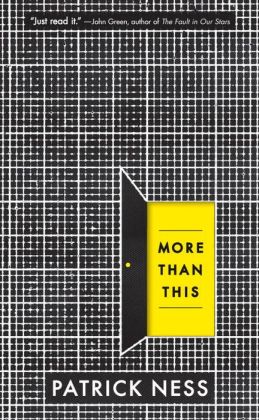 Seth drowns, desperate and alone. But then he wakes. Naked, thirsty, starving. But alive. And where is he? The street seems familiar, but everything is abandoned, overgrown, covered in dust. He
remembers
dying, his skull bashed against the rocks. Has he woken up in his own personal hell? Is there more to this life, or perhaps this afterlife? From the acclaimed author of the Chaos Walking trilogy and
A Monster Calls
comes one of the most provocative teen novels of our time.
Why I'm Excited:
After reading the summary for this, I immediately knew it would be a book that I would devour. Also, look at this little blurb from Author John Green: "Books are often described as 'mind-blowing,' but this is one of the few books in which, while reading it, I have exclaimed aloud, 'Oh. My. God.' on multiple occasions. I won't tell you anything else about it. Just read it." — John Green That little quote by itself is enough to make me want to pick this one up. I also love how the summary doesn't give too much away. It's just enough to get you interested. I haven't read anything else by Patrick Ness, but somehow I'm getting my hands on a copy of this one.
Release Date: 7/22/14
2.

OCD Love Story by Corey Ann Haydu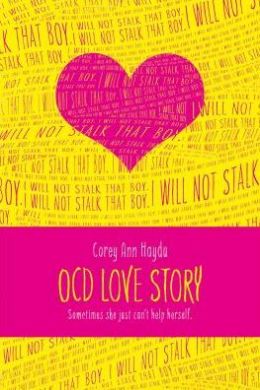 In this "raw and well-crafted (Kirkus Reviews)" romance, Bea learns that some things just can't be controlled.
When Bea meets Beck, she knows instantly that he's her kind of crazy. Sweet, strong, kinda-messed-up Beck understands her like no one else can. He makes her feel almost normal. He makes her feel like she could fall in love again.
But despite her feelings for Beck, Bea can't stop thinking about someone else: a guy who is gorgeous and magnetic…and has no idea Bea even exists. But Bea spends a lot of time watching him. She has a journal full of notes. Some might even say she's obsessed.
Bea tells herself she's got it all under control. But this isn't a choice, it's a compulsion. The truth is, she's breaking down…and she might end up breaking her own heart.
Why I'm Excited:
I'm also on the look out for a good contemp read, and with so many coming out that seem the same, this one sounds like it has a darker vibe. Don't get me wrong, I like fluffy books just like anyone else, but every now and again it's nice to mix things up. The characters in this novel have flaws and like anyone else they have to learn to work their way through them. This read looks real, romantic, and most of all human.
Release Date: 7/22/14
3. One Past Midnight by Jessica Shirvington
Sabine isn't like anyone else. For as long as she can remember, she's had two lives. Every twenty-four hours she 'Shifts', living each day twice. In one life, Sabine has everything: popular friends, expensive clothes, perfect grades, and the guy everyone wants. In the other, Sabine's family struggles with finances, and she and her friends are considered rebels. But then she meets Ethan. He's gorgeous, challenging, and he makes her feel like no one ever has before.
All Sabine really wants is the chance to live one life. When it seems like this might finally be possible, Sabine begins a series of dangerous experiments to achieve her goal. But is she willing to risk everything—including the one person who might actually believe her?
Why I'm Excited:
I haven't read very much fantasy/paranormal in awhile, this this one just seems like the kind of book to get me back into the mood for reading them. A hot guy, a cool idea, and an epic story? What's more to want. If you ever wondered what it would be like to live two lives, this ones for you.
Release Date: 7/22/14
Wrap-Up
So that's it for my first New Book News! I'm not sure if anyone else calls their weekly new release list this, so feel free to tell me if the name is already taken. What books are you excited for this week? What do you think of my picks? Let me know in the comments.

About Me
Hi my name is Alexis and I'm so excited to be heading to Oregon State University in the fall. I will be majoring in English and hope to become an editor or technical writer in my future.
View my complete profile